Diana Dentinger has been in the Personal and Professional Development Industry since 1989 and is now Training Coaches in her Proprietary "Your Life Your Way" Methodology.
More and more People are feeling Lost and are looking for Transformational Tools. More and more People are Searching to find out Who They Are. More and more People want to know their Life Purpose...and this is How Coaching can support them!
WATCH HOW YOU CAN BECOME AN AMAZING LIFE COACH
Are you a Life Coach looking to Up Level Your Skills and Maximize the Results for Your Clients?  
Or are you looking to launch yourself as a Coach or Trainer in this fast growing industry and you feel More Confident with a Scientifically & Statistically Proven Signature System?
WATCH HERE ABOUT THE CERTIFICATION PROCESS
Coaches: How well do you really understand your Clients? How do you know what is "best for them" (as in my experience they are not clear on that) based on who they are (and they don't really know who they are). As a Coach, do you ever worry your Clients won't get the needed ROI?

My clients say I know them better than they know themselves. This is great compliment and also a great responsibility. Are you curious about how I am able to serve them so well? It is not because of psychic abilities but because of the precision of the Personality & Needs Profile and Your Life Your Way Methodology that are the closed thing to having an X-ray into their core Needs and Desires in their life, heart, mind and soul.

Most of all, your Clients yearn to understand themselves and to be understood! Whether they never fully felt understood by their parents, friends or loved ones, they "pay you" to find out! They have longed for it since they were a kid. When you show up and really "get" who they are, you become their trusted guide and their "go to person" to support them solving their issues and fulfilling their unique life path.
Will you be one of the 0,25% of the 50,000 Coaches worldwide to become an OUTSTANDING COACH? If you strive for excellence and want to distinguish yourself from the masses, then you must know, master and integrate the latest research in NEUROBIOLOGY and unique PERSONALITY into your programs.

You could literally be just a few steps away from becoming an even more Outstanding Coach, Trainer, Consultant, Therapist, Psychologist ... but first You must know this... There are a Limited Number of Applicants Accepted.

APPLY FOR FACILITATOR CERTIFICATION AND SET UP A CALL TO SPEAK WITH ME.

You rise above the noise and those without a Scientifically Proven Signature System.
WATCH THE VIDEO BELOW ABOUT THE BENEFITS TO BECOMING A FACILITATOR
Support your clients by knowing exactly how each one is programmed to feel and think.
WATCH THE VIDEO BELOW ABOUT MY JOURNEY TO CREATE THESE TOOLS
Most of all, your Clients yearn to understand themselves and to be understood! Whether they never fully felt understood by their parents, friends or loved ones, they "pay you" to find out! They have longed for it since they were a kid. When you show up and really "get" who they are, you become their trusted guide and their "go to person" to support them solving their issues and fulfilling their unique life path.
Most Coaches Make these Unforgivable Mistakes!
1st Mistake: Most Coaches are in their own "Story"

Most coaches make the mistake of being in their own personal story and emotional "re-sent-ment". You don't have to be stress free, but you do need to have mastered your emotions, if not you will attract clients like you and be triggered into re-feeling their difficulties - as if they were yours! REMEMBER: Your clients are stuck in their problems because they are unclear about their Needs and they are bearers of beliefs. They could see a bunch of solutions if only they could focus on who they are.

With YOUR LIFE YOUR WAY Coaching you learn how to see solutions for them, but this requires that you are emotionally free and detached. When you learn how to use the Personality & Needs Profile™ tools in your client's YOUR LIFE YOUR WAY™ PLAYBOOK, you will know exactly who you are and who your client is. Your guidance becomes priceless and is amazingly effective based on who your client is and what he or she wants regardless of whether you would or would not do the same thing.

WHAT 21st CENTURY COACHES REALLY DO FOR THEIR CLIENTS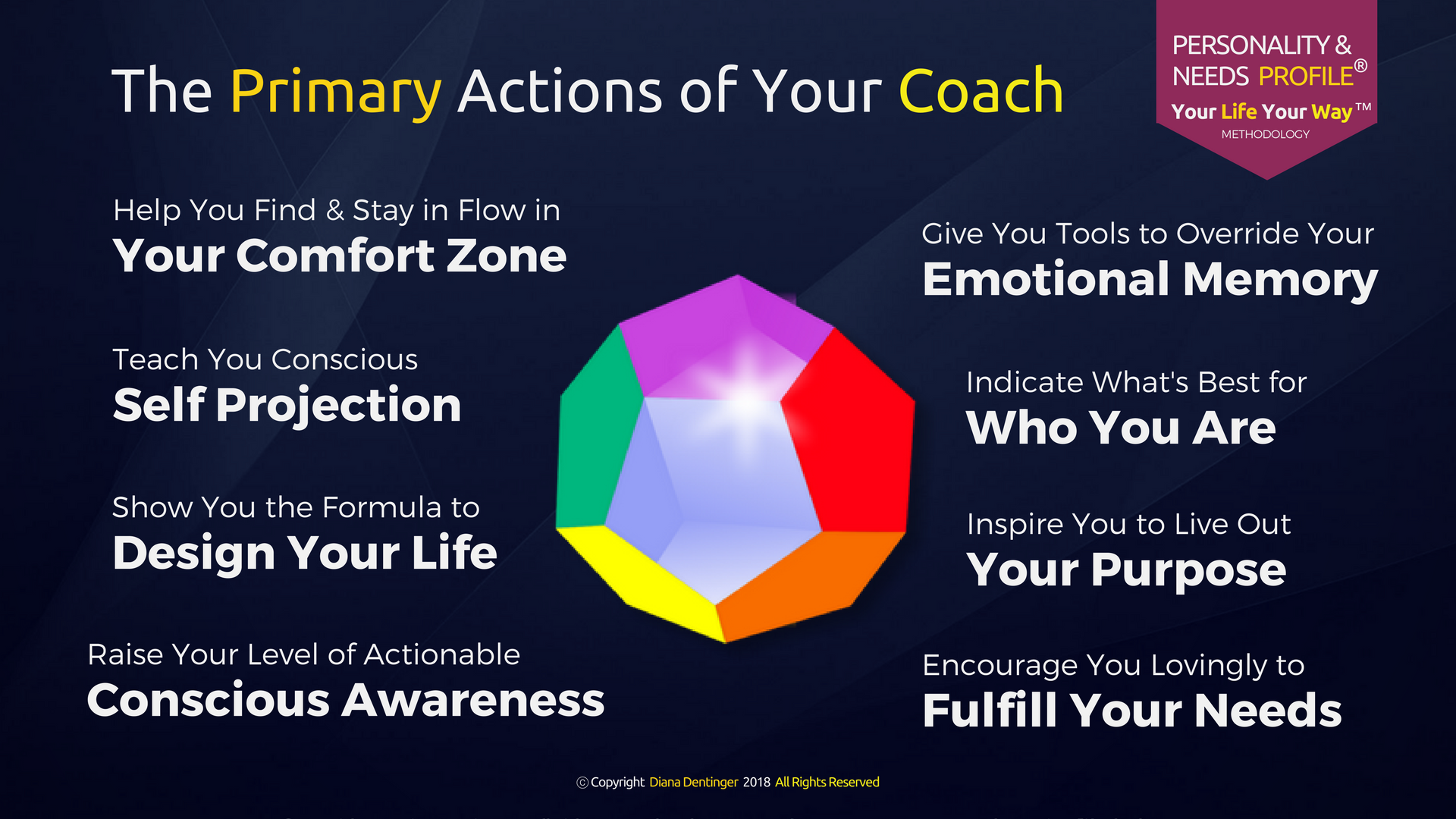 2nd Mistake: Most Coaches only think "people" & "opinions"

The most effective way to coach is to think "animal" when your client shares his or her issues! You must be able to read between the lines of what your clients want in terms of "life in a pack" or even "outside the pack". Unless you are fully prepared and learned in the different levels of behaviour, you risk judging, justifying or disregarding how your client or those involved in their "issues" behave! This is a grave mistake!  

With YOUR LIFE YOUR WAY™ Coaching you learn how to interpret actions and symptoms, from a sneeze to a back ache to diabetes, so you are able to get what is really going on with your clients. Often your client is not able to understand how even small mishaps communicate things about their underlying fears and desires. They don't know how to explain it. Becoming a Certified Facilitator you learn Symbology, Etymology and Biology. You are able to understand what your clients don't comprehend about themselves. You transmit the message to them and things shift in their lives without "working on issues".

READ THE BENEFITS OF BEING A YOUR LIFE YOUR WAY FACILITATOR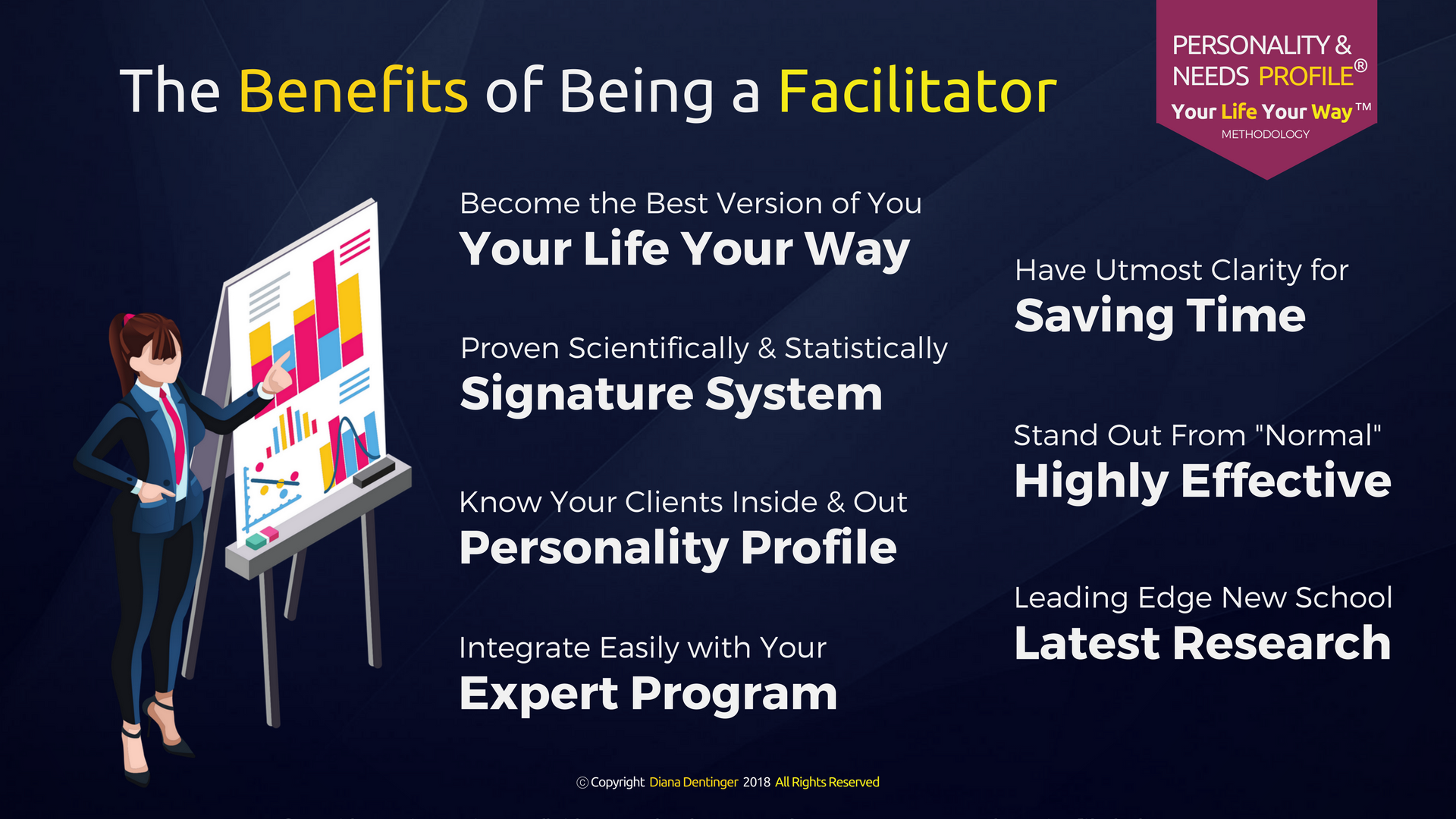 3rd Mistake: Most Coaches only think about "Results"

Most trainers and coaches work with clients to reach an end result. In reality, results do not exist. A path or more possible paths exist. Finding these paths and living them is the real goal. Your goal is to have your clients take a journey. With YOUR LIFE YOUR WAY™ Coaching you learn how to give your client tools to change. Your client learns how to walk down his or her own path in life.


Their "results" will depend on how they take the journey. You might often see that your client reaches a result, but then do nothing to change. They deal with their problems but they don't learn to adapt. Therefore they do not learn how to change. They only become dependent on your support and then continue to need your help to solve every problem. You become overwhelmed and possibly invade or bored with their same ole issues.


Teach them how to know themselves and SET THEM FREE. Have them take a journey of self discovery and self knowing so they are consciously aware of who they are so they make the best decisions... and so you can be more impactful in a shorter amount of time, freeing you to help more exciting clients.

When you really know your client better than they know themselves.
WATCH THE VIDEO BELOW ABOUT THE AMAZINGNESS OF UNDERSTANDING PEOPLE
What do You Desire to Improve?
It is not a question of whether you will be on the leading edge or not, it is a question of WHEN! With an increased number of people wanting to get a desired "result" as well as gain deeper understanding of themselves, the coaches who will thrive in this "over crowded" industry are the ones who can give their clients both of these essential tools. When you are ready to become even better at guiding your clients and at avoiding these and other costly, unethical mistakes (btw your colleagues and competitors are making them), then YOU ARE ON THE RIGHT PAGE.

The next step is to APPLY FOR FACILITATOR CERTIFICATION. You already know that most coaching programs are "cookie cutter" with a one size fits all process. And that is why so many Coaches live in doubt! You already realize that every person is a unique individual with a unique combination of strengths, as well as you already know that a "generic" process can not be effective for them to get overall happiness and sustainable fulfilment. MOVE BEYOND THE MASSES!

There is NOTHING generic about the YOUR LIFE YOUR WAY™ Coaching created and used by Diana Dentinger. Every person is considered unique and as a Trainer or Coach it is your highest ethical responsibility to guide your client to be themselves, not to think and act like you.

CLICK TO APPLY FOR FACILITATOR CERTIFICATION
FACILITATOR CERTIFICATION LEARNING PHASES

The Facilitator Certification Training Program is a go at your own pace course - lasting from 1 to 3 months - depending on how much time you wish to dedicate to up leveling and learning these leading edge coaching tools.

PHASE 1: YOUR LIFE YOUR WAY™ COACHING FOR YOU

In this first phase you take the Path to Prosperity and go through the YOUR LIFE YOUR WAY™ Program to know profoundly and integrate wholly each aspect of yourself. When you walk the walk first, then you can walk your talk with clients after the Certification Process. This process will give you amazing self confidence because you will know for sure that you are on the right path. You become your first case study.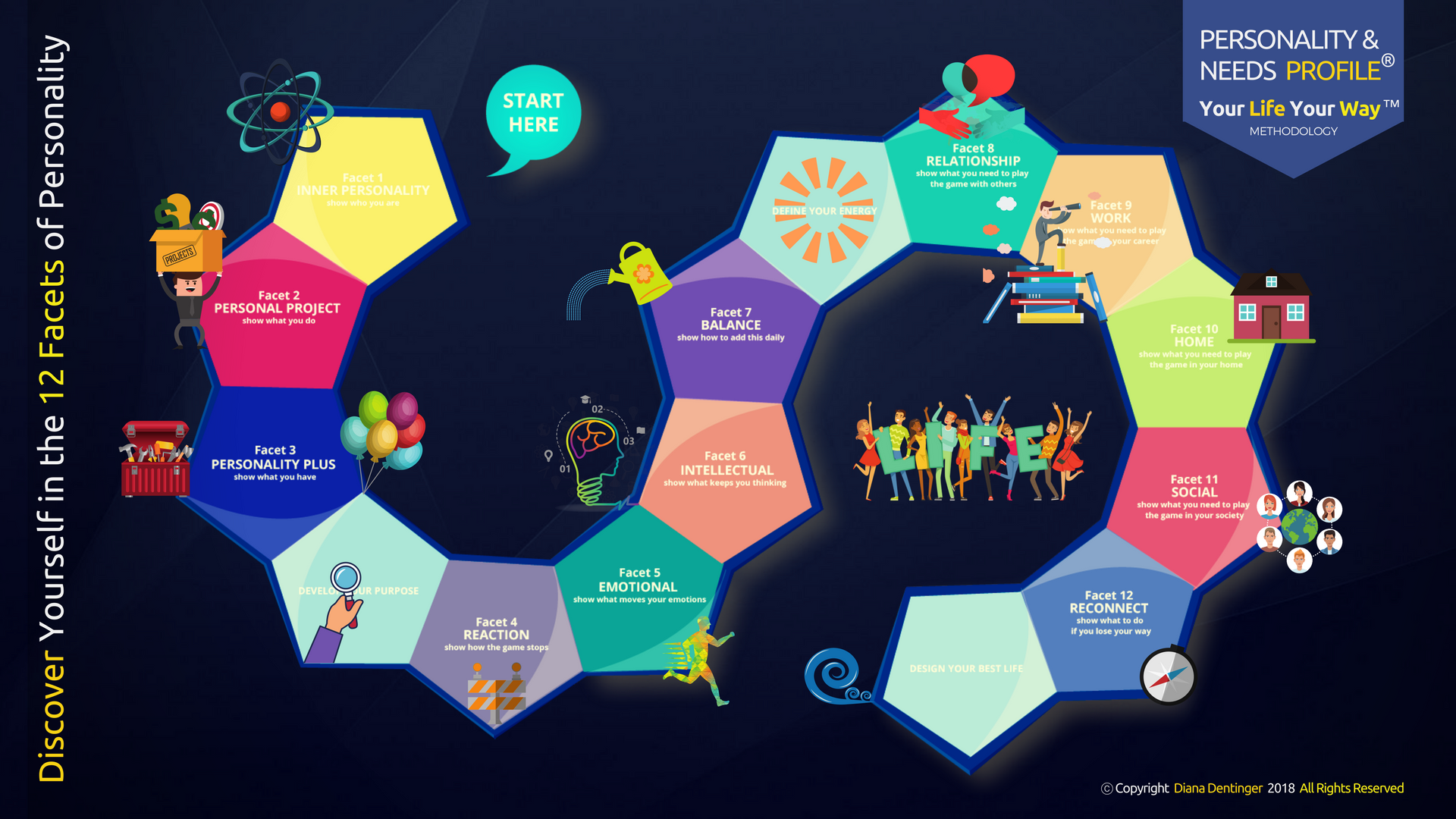 There are 12 Facets to a Complete Personality and you have a Unique Individual Need in each Facet. You are not one type out of four nor so small to fit into a few categories. This first Phase is about remembering your innate greatness to shine brighter as a unique human being.

Your life, how you show up in relationships and what you choose as a profession or role becomes then a more fully coherent outward expression of who you are inside. You will get to know the Key Words that light up your brain and biology and create your Real Self Image to expand your Energy Field.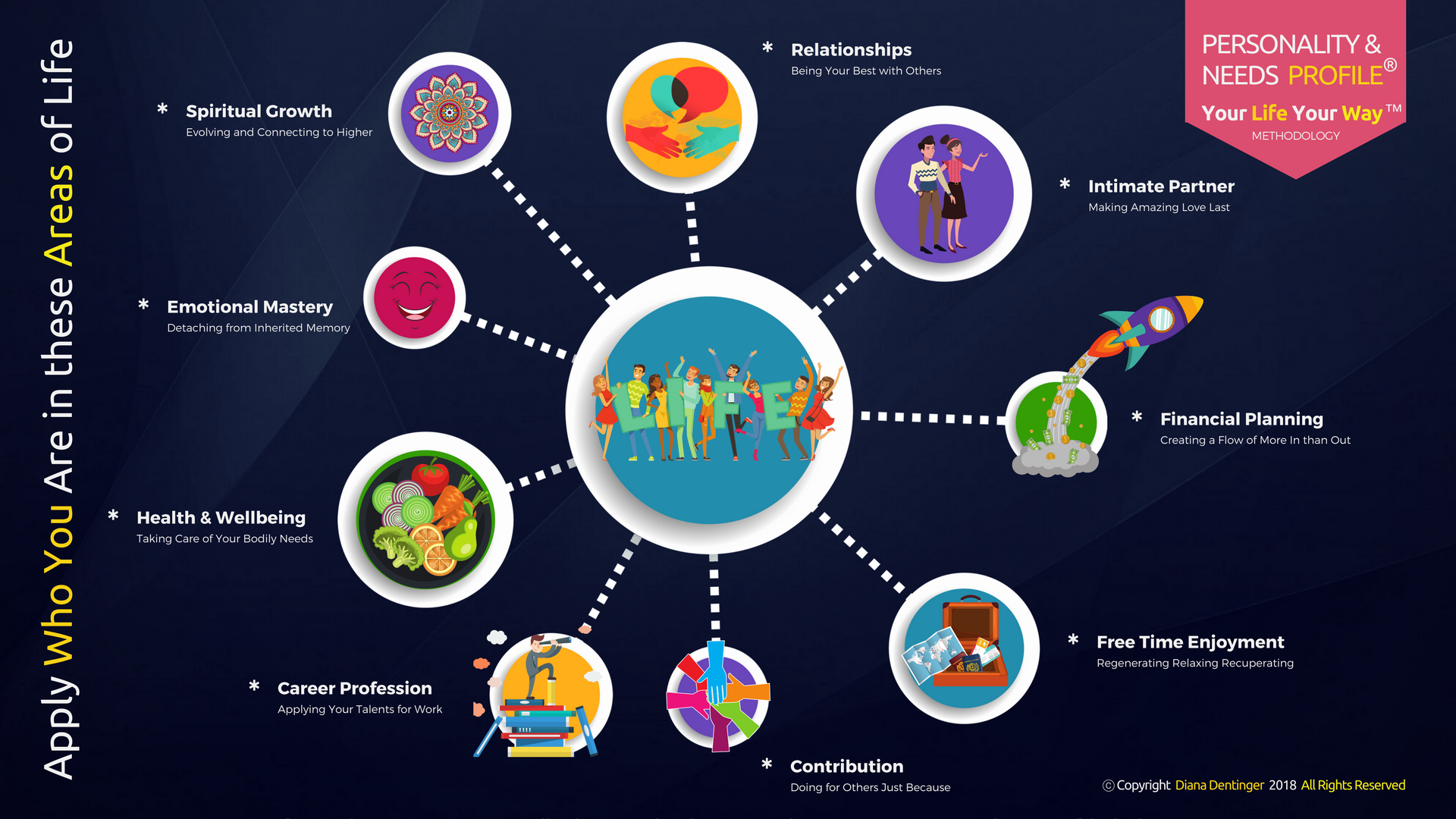 PHASE 2: YOUR BUSINESS YOUR WAY

In this Second Phase, you have another One on One Coaching Session with Diana Dentinger to get clear as a Coachee on the areas of your life that you wish to improve. Often it is not Business. Often the idea of creating a dream business is because another area of life is stressful or dissatisfying. You want to make sure that you are finding solutions to your everyday issues through this methodology and feeling progress to peacefully create it.

In a nutshell, you become exponentially more effective by means of the YOUR LIFE YOUR WAY™ Methodology because you start being yourself again - without the masks and expectations of others conditioning your feelings, thoughts and actions.

So when you start the "Branding" phase of your ideal client, your key words, your colors and how you show up as an expert, are just you being yourself in your fuller potential.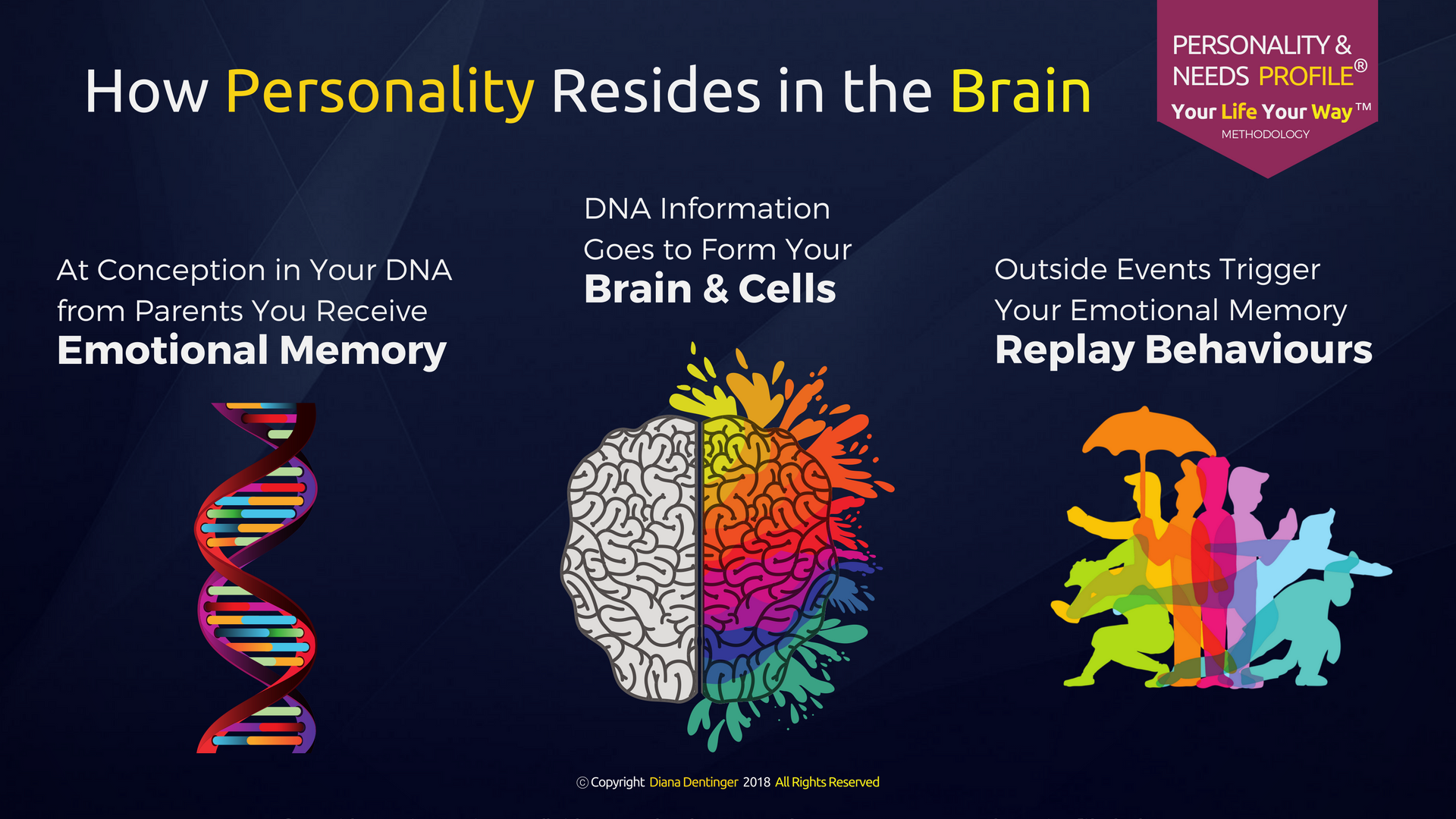 PHASE 3: YOUR LIFE YOUR WAY METHODOLOGY

In this final Phase of the Facilitator Certification you study these leading edge tools of the YOUR LIFE YOUR WAY™ Methodology: The Basics of Human programming such as "Needs Drive Behaviour"; The Principles of the Brain as the an organ that go beyond "Mindset"; The 12 Facets of Personality; What they mean and where they reside; The 22 Unique Individual Needs with predictable innate talents and conflicts The Blending of Personality Needs that make an individual unique; Work with Symbology, Etymology and Self Image Creation for Energy.

THE FINAL PHASE INCLUDES PRACTICE COACHING WITH CASE STUDIES

You will be given the YOUR LIFE YOUR WAY™ Coaching Playbook with the Personality Profile of my previous clients for you to study and coach me through as if I were them. I have their preliminary questionnaire that you can read so you learn how to connect what they say about themselves and their issues, to who they are as well as the predictability of how they explain things. This is the funnest part of all when you really shine!

You could prepare each case study in a few hours and then we have our One on One Calls. When you "pass" then you will be officially Certified. I am demanding because I feel that as Coaches and Guides for people looking to improve their lives we have a highly responsible role.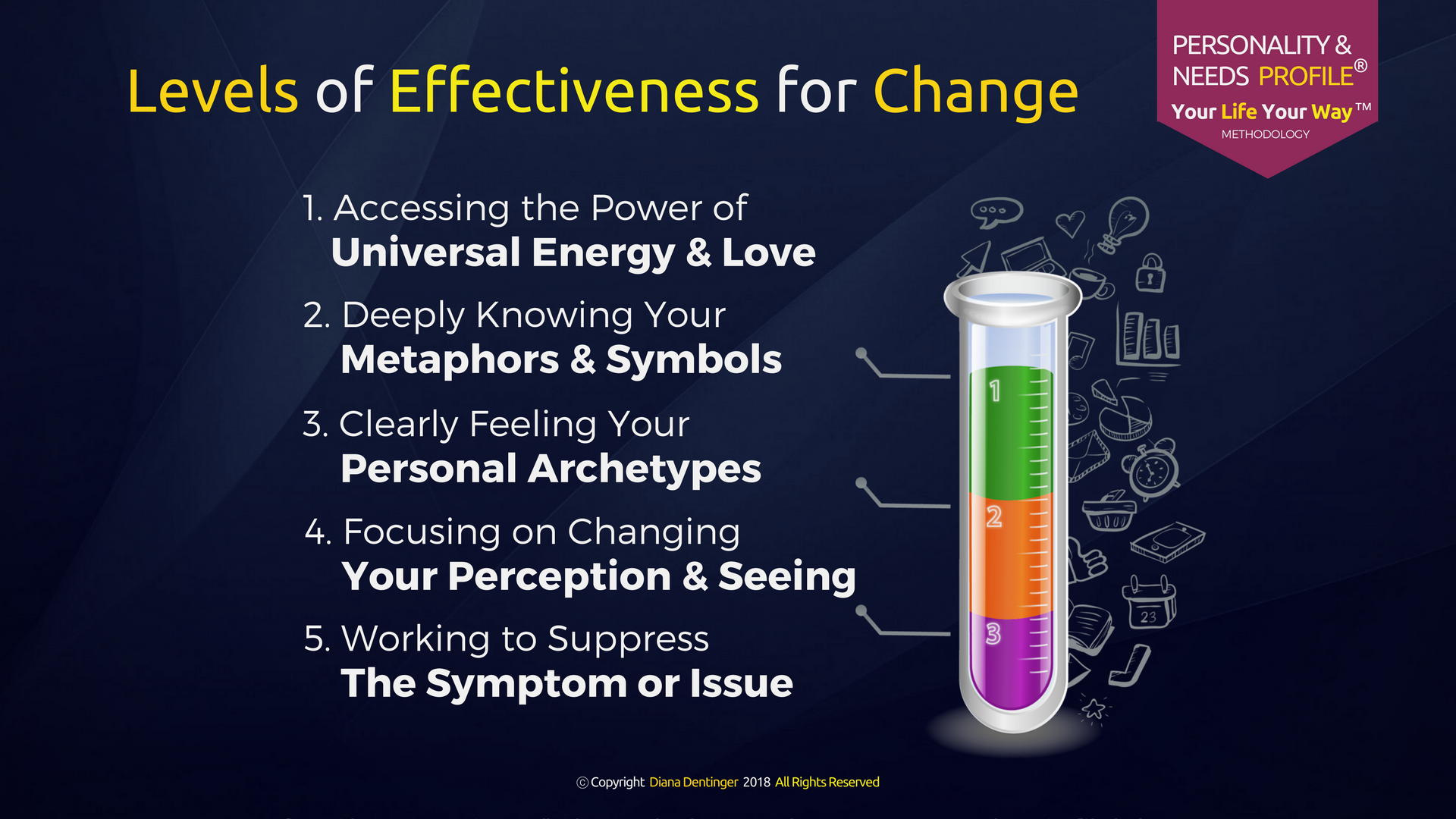 MY SUPPORT IN YOU GETTING WORKSHOPS AND CLIENTS

You will get my "advice" on how to best position what you do for others based on who you really are. This can be through creating a One page Speaker Media Kit so you get hired to do Conferences, the key words to put in your BIO, or the correct wording for a flyer for a local Workshop!

THEN WE ESTABLISH YOUR LICENSEE AGREEMENT

When you become a Certified Facilitator you can do One on One or Group Coaching with these tools as they are or integrate the information you will have from clients with what you already do. You are not allowed to teach the methodology! I have over 15 years of experience and tens of thousands of hours in research involved in creating this methodology. You would be doing your "students" wrong. If they had deeper questions, you would not be able to answer them... so save yourself from their loss of trust.

To use the YOUR LIFE YOUR WAY™ Coaching tools, receive on going education from me and be able to get your client's profile at a discount, you can become Licensed. There is an annual licensee fee that we establish based on your earning objectives. We also decide your per client fee for the elaboration of their YOUR LIFE YOUR WAY™ PLAYBOOK or their Personality and Needs Profile™.






Diana Dentinger is an Innovative Change Maker and Influential Thought Leader who teaches you how to be Yourself. She was Awarded one of the Top 100 Women Achievers of 2018. Diana is the Creator of the Personality & Needs Profile - the easiest, most exact & effective tool to you discover Who You are and How to be More - as well as the Your Life Your Way Coaching Methodology.

She graduated from Miami University in 1984, traveled around Europe and stayed! Since then she has been an Entrepreneur, first in Germany, and then a Corporate Trainer and Executive Coach in northern Italy where she raises her 4 children. Her Proprietary Coaching Methodologies are based on her rigorous research to become a Psychosomatic illness therapist, integrating vital and leading edge knowledge about how each person is programmed and how they can reach their fullest potential.

Diana is specialised in Symbology, Etymology and Key Word Coding that bring subconscious information to conscious awareness so her Clients know what it is like to be themselves. Now more than ever, people are FULL of things but still feel EMPTY. They try to figure out life but can't seem to make it more meaningful. They are overwhelmed with questions and doubts. Diana offers each individual REAL ANSWERS. You can Sign Up for some Complimentary Quizzes and the Audio Version of her best selling book "Modus Vivendi - Your Life Your Way" on the Free Quiz tab.

From over 25 years of experience as a Corporate Trainer & Neurobiology therapist, Diana helps you connect to the core of who you are, what you love to do and how to be more of yourself. And now she is training Coaches to do the same for their Clients.