YOUR LIFE YOUR WAY COACHING IS UNIQUE BECAUSE YOU ARE UNIQUE
Since the start of and sudden boom of the Coaching Industry, many schools have been created to teach people how to coach. But most of their Programs are just about asking clients questions on "What they want" and then defining a plan of "How To" get it. The "Your Life Your Way" Coaching Programs are the only ones in the world that offer you precise answers to "Who You Are" so you get crystal clear on what you really desire for yourself and your life.
What you get with a Personality Profile and Your Life Your Way Coaching is profound inner knowing, in a light and fun way, so you have unshakeable confidence, unwavering energy and unstoppable momentum! Watch this introductory video to understand some research into why these programs are so effective.
Each year research reveals more about how the human being works. Very few coaches have a scientific background and therefore are not refined in exactly how each one of their clients as an individual is programmed. Diana Dentinger has vast experience in a wide range of studies, Neurobiology as well as in depth understanding about Energy.


Most Life/Success/Relationship Coaching Programs are still based on "old school" psychology, generic universal human needs satisfaction or "fluff" from the positive mindset movement. You can't just shift your mindset to have a fulfilling life nor just meditate nor release emotions. You must know "Who You are".

THESE ARE ALL GREAT FIRST STEPS FOR SOMEONE WANTING TO BEGIN A PERSONAL GROWTH JOURNEY.
They help the person get clear on the basics and shift some "negative" self talk so they are ready for the next level. Now that we are in the 21st Century, Diana Dentinger is ready to offer you the most precise tools so you leverage with ease everything about your Personality, Life Purpose and higher Potential.


My Mission & Vision for A Better World
In Your Life Your Way Coaching, you learn to "Play with your Personality" following specific biological, scientific and neurological principles in a Fun Way. You need your Key Words and Descriptions, that are in your Profile Playbook, then together we build your real Self Image, create your personal Affirmations, Chart your Desires and Design your Life so it is... Your Way.



WHY JUST TAKE MY WORD FOR IT. READ WHAT REAL PEOPLE HAVE TO SAY...
"Why did it take me so long to discover myself? After school I chose a career that took all the life out of me! I needed a change and with Diana's coaching I became certain of my personal calling. My new business is flourishing."
- Simona B., Sales Representative
"The day after our first session, a professional issue magically resolved itself saving me over $30,000. I know it happened because of the instant clarity and new perspective I gained working with Diana."
- Costanza T., Art Curator, Italy
"Diana, you have blown me away with what you knew! It was so impressive and accurate. You have surprised me so many times with your insights and your amazingly accurate perceptions... and also your generosity! You are so talented and intuitive. Everyone will be very impressed with what they learn about themselves and their dear ones in life."
- Lorie Marrero, Author of The Clutter Diet, USA
"Diana represents the change that I so desperately needed. Before coaching with Diana I was very confused about who I really was, sad and with no enthusiasm for life, doing everything "robotically", even the things that I once loved doing. She helped me rediscover myself. Amazingly she knew so much more about me than I actually ever did. She went deep. Diana showed me the reasons why I'm not living life to the fullest. Then she gave me guidance on how to learn, and relearn who I truly was. The shift happened and I gained so much awareness that I was a new person feeling happier, more productive and it got better and better. So now I have the changes, the impact, better business, better relationships, all thanks to the clarity, tips, suggestions, connection with myself and my needs that I got from her. Thank you Diana. You truly know how to transform lives and I'm so thankful I was one of them."
- Vitoria Castro, Video Marketing Strategist
"Diana used the Personality & Needs Profile™ to help our Team reach Results this year. Before knowing this method, we were still having petty disagreements and not moving forward. Taking us all through the Program, we finally became aware of each other's talents and the traits that made us all amazing people. Now we leverage our differences to win in our competitive industry."
- Laura V., Customer Service Manager, Florence, Italy
"I was so surprised at how precise all this information is about me. And it is so easy to follow on line. It helped me to observe and change certain behaviors in a way that actually make me feel better! So now I understand why I am doing things, and instead of putting myself down for stuff, I am aware of it. It helps me not take things to an extreme and blame myself. It has been really helpful and very useful! And the support with messages and the final call were fantastic to really help me integrate things and it added such a personal touch! Now and then I go back to watch the videos, even after the 9 days, to expand my view on each of my Needs and to continue growing."  
- Aina Brence, Fashion Designer, London, England
"I am eternally grateful for this process and your words of wisdom. Whenever I need to feel really good and grounded I am going to read them. I love the part of not making choices and vibrating high and letting the Universe choose for me. The truth is love all of it, I am going to start by following my heart and listening to myself."
- SF, Astrologist, USA
"If I hadn't worked with Diana I would have left my husband and my kids. We were at a dead end with no way out. Thanks for saving my family!"
- Christina M., Pilates Trainer
"It connects the human being in a way that feels right!"
- MR, Leadership and Marine Trainer
"I highly recommend this course because you will be able to look at yourself from a different perspective. It is so personal! It allowed me to re-evaluate my whole life. I feel more decisive and peaceful."
- VA, Trainer, India
"It is a shame that not everyone does this course. It should be mandatory for every person. My husband, with my 3 teenagers and I all had coaching with Diana. It has made an enormous difference and now we deeply know each other. The kids loved her. And she could see their future careers and how they would blossom. We are so thankful for this experience."
- MFP, Video Producer, Portugal
"Working with Diana to discover my needs was very eye opening for me. It supported me to communicate better with my spouse and children as I understood how my innate reaction were. Her programs are worth investing in and ones I greatly value."
- Siobhan Wilcox, Founder of the Thrive Now Blueprint
"I feel so relieved after being in this program. It reconfirmed the things I sensed to be true about myself but that I didn't know how to use. Now I know exactly how to take my life experiences to help my clients."
- Silvia P., Shiatsu Practitioner
"It was so helpful to learn more about what how timing and ancestry impacts my strengths and my challenges. Diana, your work helps to light a new way forward!"
- Julie Jakopic, iLead Strategies
"The only thing I can say is amazing!"
- Ornella T., CEO Barbera Wine Distribution
"If I hadn't worked with Diana I would have left my husband and my kids. We were at a dead end with no way out. Thanks for saving my family!"
- Christina M., Pilates Trainer
"Diana has an amazing ability to connect, inspire and teach people how to truly be their most authentic self and to live an amazingly simple and exciting life. Diana does all of this with loving energy that is filled with a feeling of ease and grace. My experience working with Diana has been and continues to be impactful and life altering. She has this ability to teach each of us about our real and natural selves. The benefit to you is that once you're aligned with your true self, you'll have a deeper understanding that'll help you to live and move through your life freely and with a silent, yet bold confidence. Knowing who we truly are and how we can live our life to our fullest capacity is the best gift we can ever receive. Thank you Diana."
- Mark Rabbitt, Leadership Coach, USA
"When I worked with Diana to discover my needs, I remembered my fuller potential and connected deeper with my purpose. When our purpose is made clear through powerful questions everything flows in one's life. It is as if the things that once were blurred come into consciousness allowing oneself to thrive natural and gracefully. This deep wok of insight and awareness has reinforced the work I do serving my clients as a prosperity coach."
- Patricia Gozlan, Prosperity Coach, Switzerland
"I definitely recommend everyone taking this course! I am having a closer relationship with myself and people around me. I am having more clarity on my life. The program has helped me to have informed decisions. Many physical challenges and emotional challenges in me and with my family are being solved. I am grateful for having met Diana, Thank you Soo Much! Love You Soo Much."
- SR, Soft Skills Trainer, India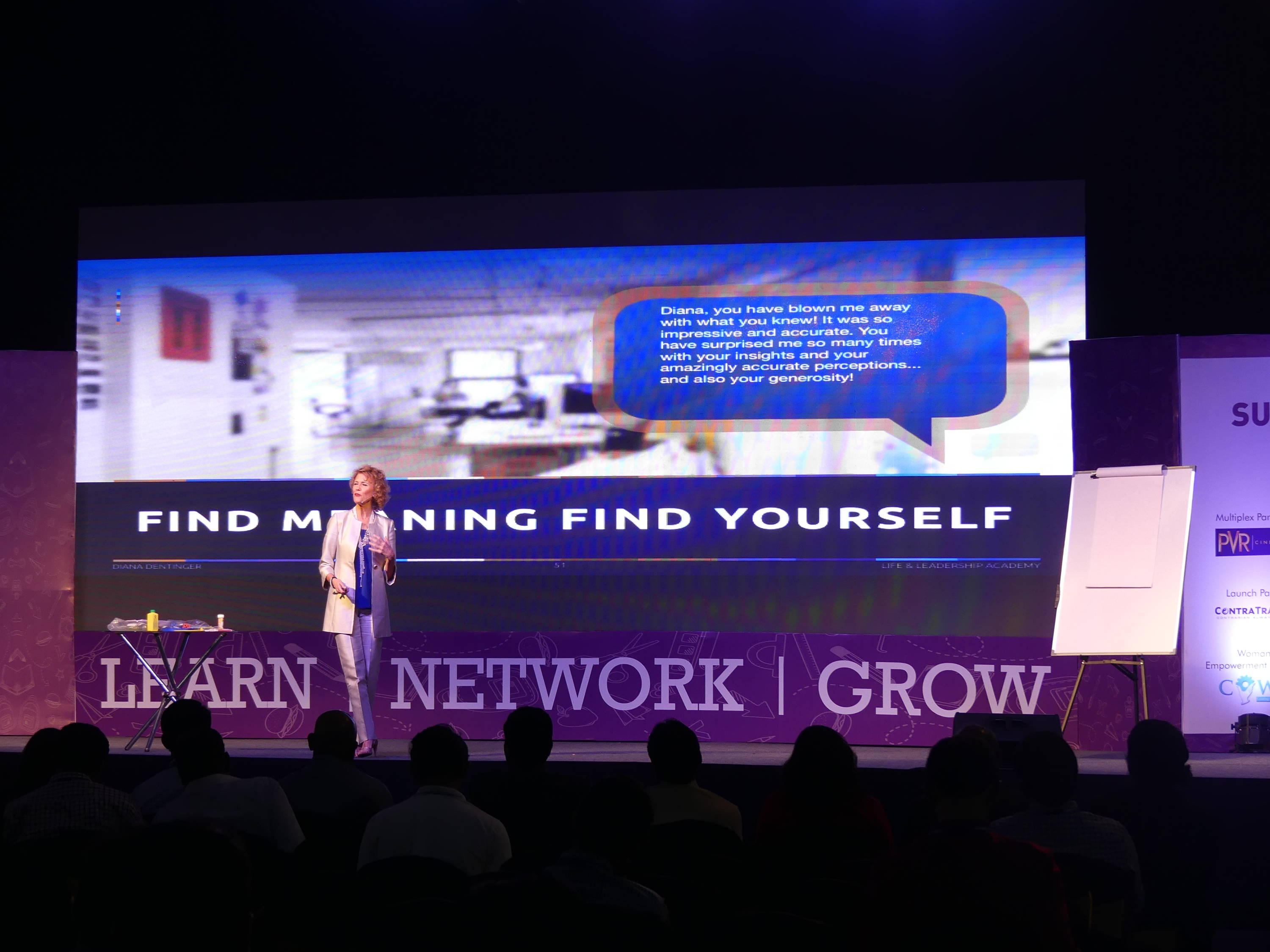 Diana Dentinger is an Innovative Change Maker and Influential Thought Leader who teaches you how to be Yourself. She was Awarded one of the Top 100 Women Achievers of 2018.

Diana is theCreator of the Personality & Needs Profile - the easiest, most exact & effective tool to you discover Who You are and How to be More - as well as the Your Life Your Way Coaching Methodology. She graduated from Miami University in 1984, traveled around Europe and stayed! Since then she has been an Entrepreneur, first in Germany, and then a Corporate Trainer and Executive Coach in northern Italy where she raises her 4 children.

Her Proprietary Coaching Methodologies are based on her rigorous research to become a Psychosomatic illness therapist, integrating vital and leading edge knowledge about how each person is programmed and how they can reach their fullest potential.Diana is specialised in Symbology, Etymology and Key Word Coding that bring subconscious information to conscious awareness so her Clients know what it is like to be themselves.

Now more than ever, people are FULL of things but still feel EMPTY. They try to figure out life but can't seem to make it more meaningful. They are overwhelmed with questions and doubts. Diana offers each individual REAL ANSWERS. You can Sign Up for some Complimentary Quizzes and the Audio Version of her best selling book "Modus Vivendi - Your Life Your Way" at this link: https://www.dianadentinger.com/pages/life-changing-free-resources

From over 25 years of experience as a Corporate Trainer & Neurobiology therapist, Diana helps you connect to the core of who you are, what you love to do and how to be more of yourself. And now she is training Coaches to do the same for their Clients.